Wind. Lots of it. Enough that the bike maxed out at 90 and my helmet compresses the foam right against my head and my nose touches the visor. The padding on the front of the helmet pressed against my lips like an ex at the doorstep.
It was a rough ride. It had been way too long since I had been on a long bike ride, and the wind was enough to make me question the whole idea. Aside from a couple dual-sports trudging their way across the dessert, I was only passed by 1 sport bike. Some guy in full leather that had established the same lean into the wind that I had. There were a couple times when I was hit by an unexpected burst. The hardest was while I was slowing down to get gas in Baker. Never lost control though.
Things got better about Riverside, just in time for the traffic to kick in.
Perhaps I'm jaded from being in Vegas. Perhaps living on the strip finally got me… But this place is surreal in some odd ways. First off, – It's foggy. Riding by downtown LA, it's a CITY. It looks the opposite of ideal. High train trusses with graffiti and skyscrapers in the fog. Backed up traffic, as I head into the grey California sunset, the orange ball in the smog goes behind a cloud and all the streetlights turn on. I pull over at a ga station on Arlington street to switch to sunglasses. It looks like a nice place until I notice the bars over all the windows. The gas station is absolutely packed. The bit of rain was welcome after such a hot ride. About the only thing it did wrong was it made me smell horrible. But, I was staying in a Hostile. This is not a problem.
Parking in Santa Monica is a problem. Last time I pulled into a garage, the woman only spoke enough English to tell me that it was $5. The place was under construction, so there wasn't any signage. Three days later I came back to a $60 ticket, for staying more than 12 hrs. Towing – yea, that is a problem.
Following some signs to a nearby lot. I found a public one. The woman in a booth at the XXXX parking tells me to "just go around the parking gate". This can only lead to trouble later.
Writing this, I'm in a rather fancy Italian restaurant, eating Spaghetti with buffalo slices and a descent balsamic vinegar… I make it a point to only eat local when out of town. Good eating is part of the fun. There's a mall with a level of all local restaurants. It makes things easy.
I'm completely under dressed, right down to the dirt under the fingernails. But, the waiters are cool with it. They explain my meal is late and I tell them its not a problem. They give me an extra helping of bread and another beer.
Perhaps it's the beer, or maybe its exhaustion… But that meal was pretty darn good.
Its Friday.. almost midnight, and the promenade and pier are going strong. But still, to touch the water of the Pacific ocean is a great feeling. Just magical.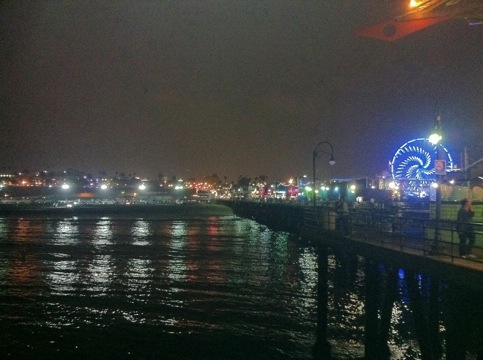 The windows are open in the dorm room. My bunkbed barely fits me, it's hot and humid and I'm had a lot of trouble sleeping. Perhaps Iv become too domesticated.
The next day, It was cloudy, but warm. The beach was flooded with people out to pick up trash. Also, an All Shelby Mustang show was going on the pier. Seriously, I come all the way out here, and go to a car show about cars built in Vegas.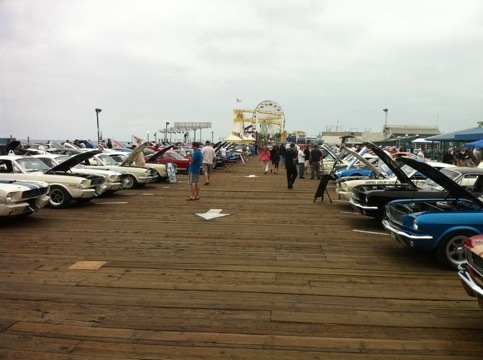 I walked the beach all the way to Venice. As it turns out, I actually do enjoy long walks on the beach.
I love Venice. The whole place looks like an "instagram" picture. It's old and colorful, full of awesome people. I wandered skate and surf shops, looked at the street vendors. That sort of thing.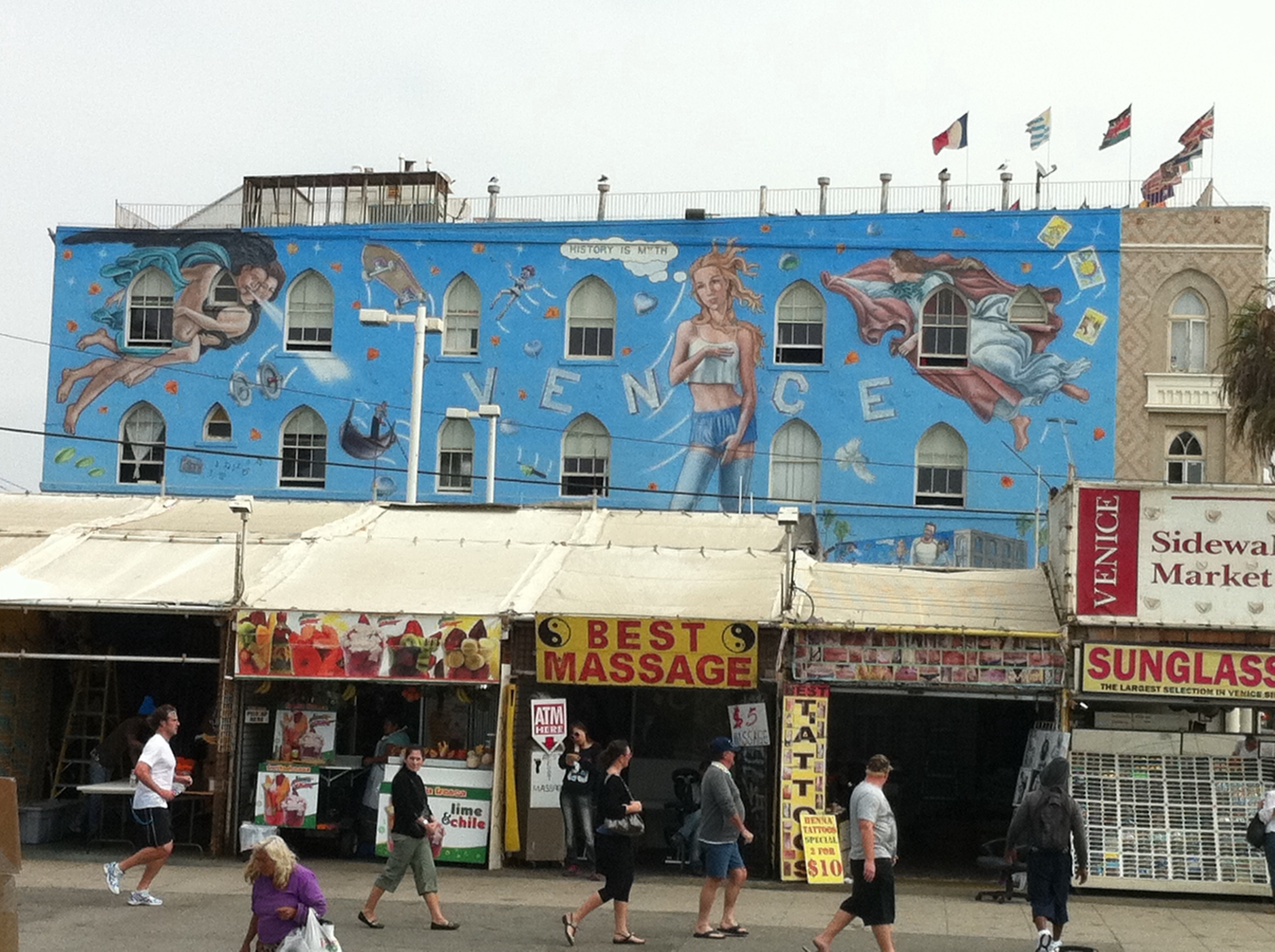 Regular version of Venice Beach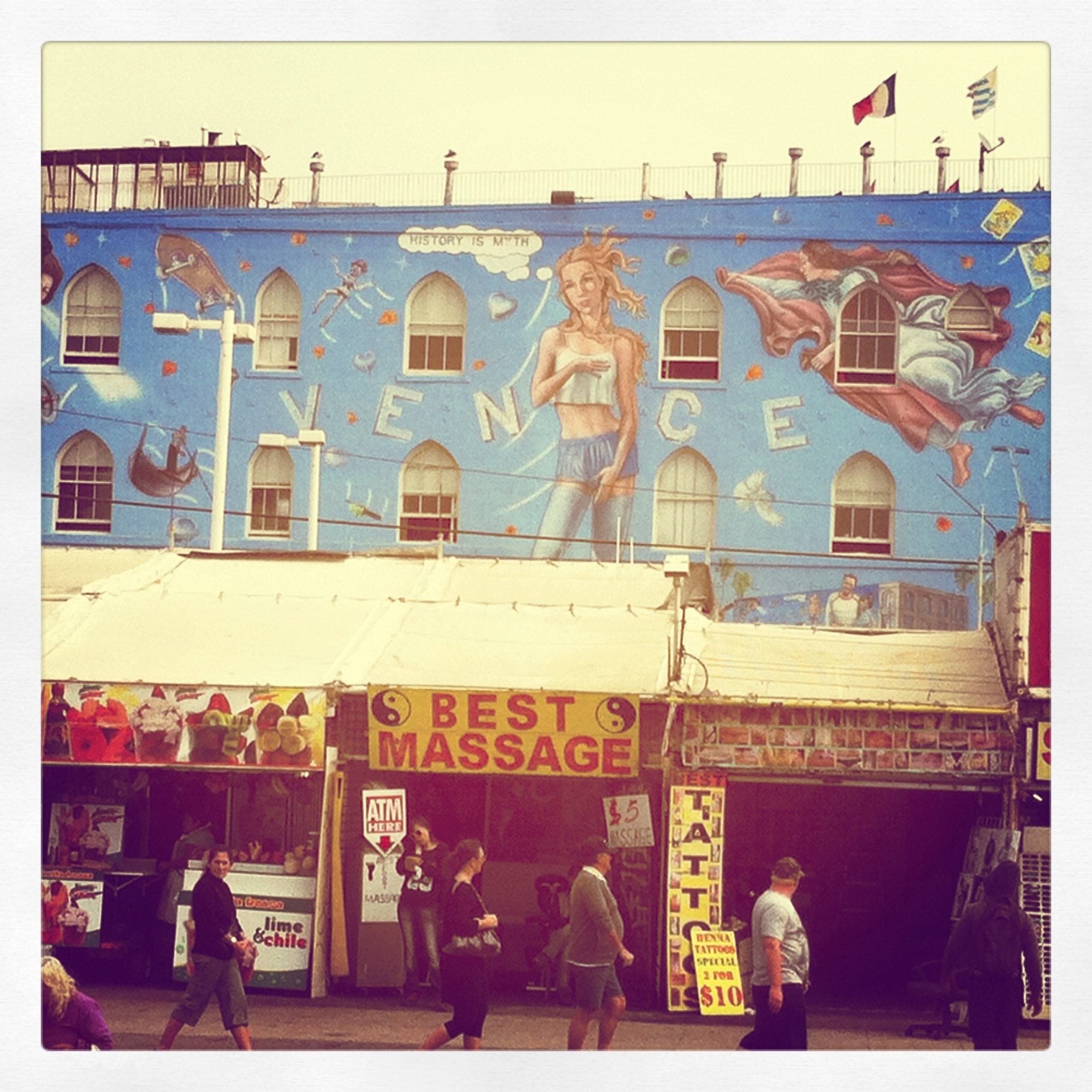 Instagram Version of the same
I ate lunch at a little Mediterranean grill with an open dining area.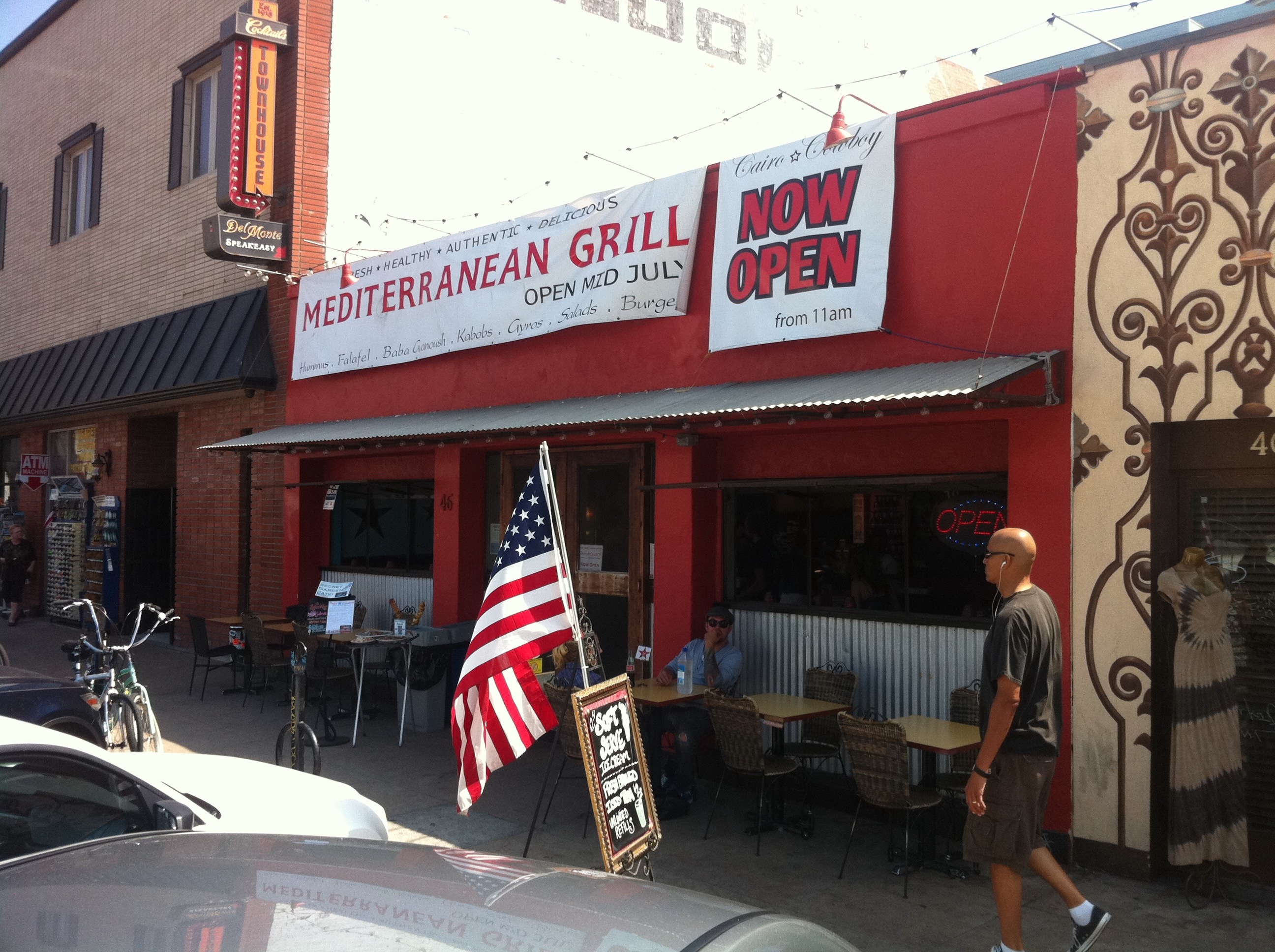 Had a lamb pita. Nothing too exciting. Just relaxing atmosphere.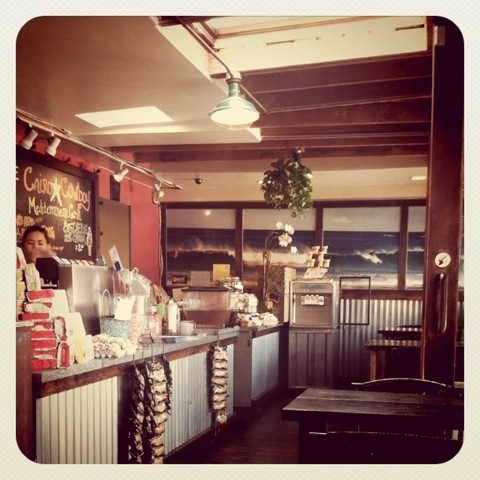 Until I stood up…
My rear stuck. Looking around at the tail side.. it was covered in pine tar. Like the kind used for roofing. Went to the bathroom and nope, that wasn't washing out anytime soon.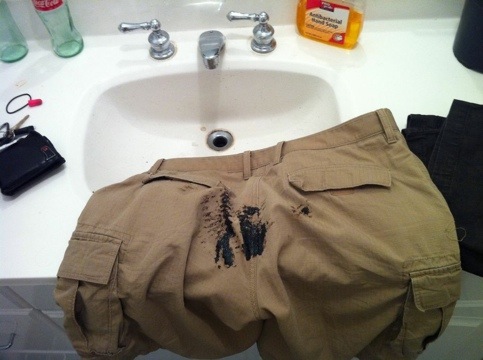 I got a refund on the meal, but that didn't take care of the fact that I looked like I crapped myself. Other customers joked that "I don't want what HE ate!". Fortunately, they were only $15 shorts. (with a grease stain from eating an awesome Rabbit Valley burger.)
Went back to the surf shop and told them the story. The kid inside found it hilarious, but they didn't carry shorts. He ended up pointing me towards a place across the street. A tiny place without a sign. Just a faded red lightning bolt on it.
The place looked like an art gallery. Not the big kind, the small kind. Local and done on the cheap. Wooden boxes painted acrylic white with corners all chipped up from years of use.
Inside, I met Icesus. A Greek girl with a passion for world travel and punk rock. Very stylish person. Exactly who you expect to meet in Venice.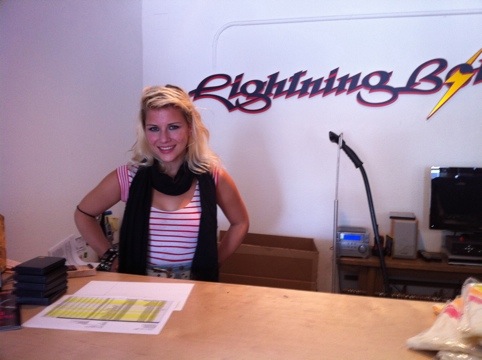 She says "James bond short" shorts are coming back. Seriously. Thats that the store was invested in. At $60 a pair, I wish them the best of luck.
She pointed me to the back rack.. the sale rack of shorts. (the regular length kind). After trying on a couple pair.. I left with a couple pair. They fit great and look awesome. Badass stuff I'll never find in Vegas. Or likely anywhere else.
That's the thing.. Sometimes adventure just happens. You can't push it. So long as you can roll with it, it's all right. Just have to have a sense of humor about such things. There are plenty of things to laugh at.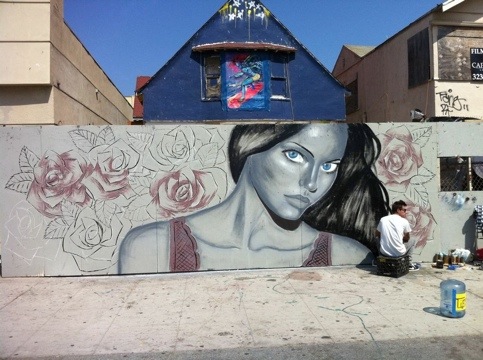 Graffiti in progress.
Back on the street, a guy selling CDs on the street said I looked like a hippy. And I got to watch skateboarders and skinny guys working out on muscle beach.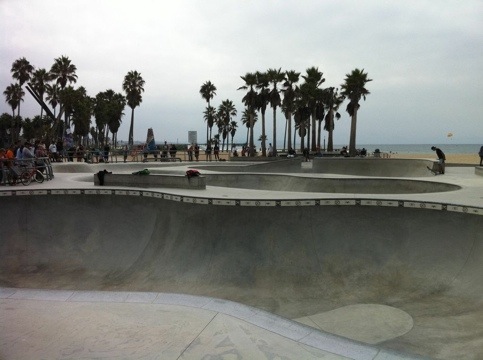 Heres a panorama of the skatepark.
Watch the movie "Dogtown and Z boys". It's a great documentary on the area. Watch it before going.
(it was edited by Paul Crowder. He spoke at my university while I was attending. It's amazing work like this that really turned me towards editing as a career.)
I hit a number of the skate stores in the area, but was really kind of disappointed in things. Vegas has great parks and I would like to learn. But, if I can get it in Vegas, there's no point in lugging it back on the bike.
Ended up doing a google maps search and finding a place 26 blocks in called "Rip City Skates".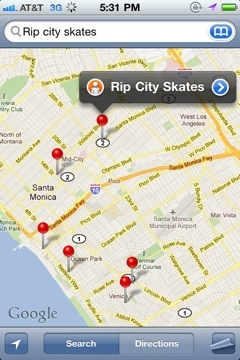 That's about how much I knew about it before going.
The bus drivers are the only angry people in Santa Monica. Ugh!
Anyways, I made it there an hour before it closed. It's the real deal. Beat up and old, walls covered with old decks. Ran into a guy named Skip there, Just listening to his stories was great. They know the people. They know the history.. And they sell their some unique decks.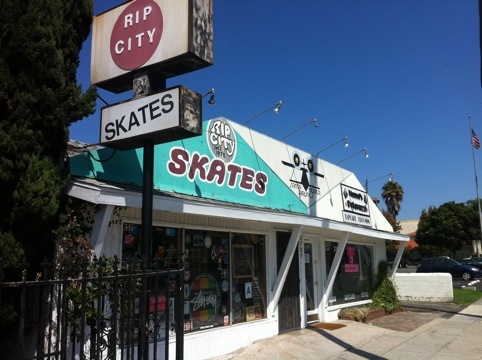 They have an interesting view on things there. Jim is a cool guy. Turns out he's been all over the world.
Ended up hitting a guitar store there called Truetone music. It was full of stuff I've never heard of. Hand painted pedals with odd names. Guitars with unrecognizable brands. They even had a selection of theremins.
That's what I love about the area. The idea of creating something great. For the sake of creating something great… Not just for mass consumption, for money, for whatever reason. Just one thing great. Vegas needs more of that. I need more of that. Or, perhaps that's the way it makes me feel. Wanting even a piece of that attitude.
I grew up in Missouri. Now live in Vegas. Iv been landlocked for so long, that the ocean is still surreal. I spent that night eating ice-cream on the pier and watching the waves.
I slept well tonight, but now I have some darn annoying roommates, stomping around at 2 am and leaving their alarm clock going. I just let it go. I hope the batteries went dead, and they miss their flight.
The last day, I spent doing nothing just wandered the beach. It was just awesome.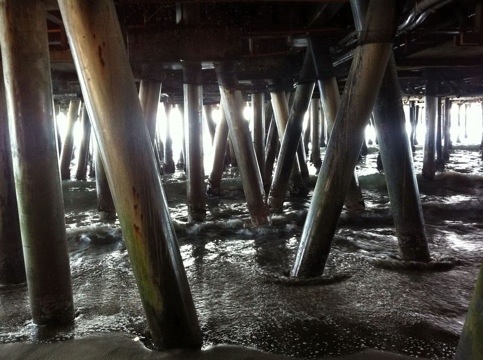 Under the boardwalk. Boardwalk.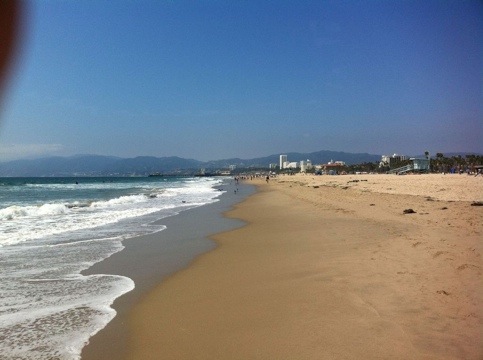 panorama of Santa Monica Beach
On the way out, I picked up a skateboard. Its a " Santa Monica Airlines" Bennett Harada model. It's a wide board, 9.25″. It's to do one thing well, roll around a swimming pool. The guys in the store were great. Thanks.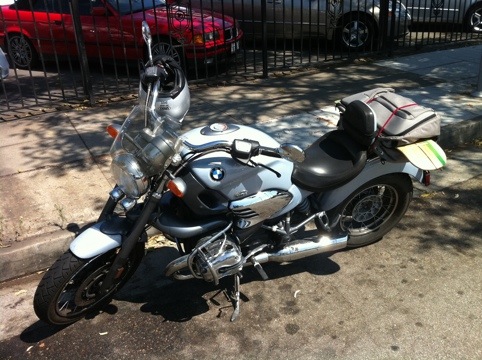 Note the board hanging out of the suitcase. Thats how I got it back.
Here it is, once I got the wheels on it. It's a thing of beauty!